VR is the latest and most updated way of gaming. It takes us into a whole new world and lets us surround ourselves with characters and visuals from games. It is great fun, but even more when shared with friends and family.
That's why Oculus gives the feature to connect the Oculus Quest to home TVs. Chromecast is a modern method, but what if you wanted to make an oculus quest cast to tv without Chromecast? Let's dive in to know about some other techniques.
Table of Contents
How do I cast my oculus quest to my tv?
Oculus Rift is a really popular VR headset for all kinds of VR games. This VR experience can be shared with family too. When you connect it to a TV, everyone can see what you see in the VR Headset.
While Chromecast is a really easy and popular method to connect, many people do not use an android device, or they might not feel comfortable with the hardware. You can also cast your Oculus Quest to the TV using other methods. Some of these methods are even more convenient than casting with Chromecast!
Cast Oculus Quest to your TV using the Headset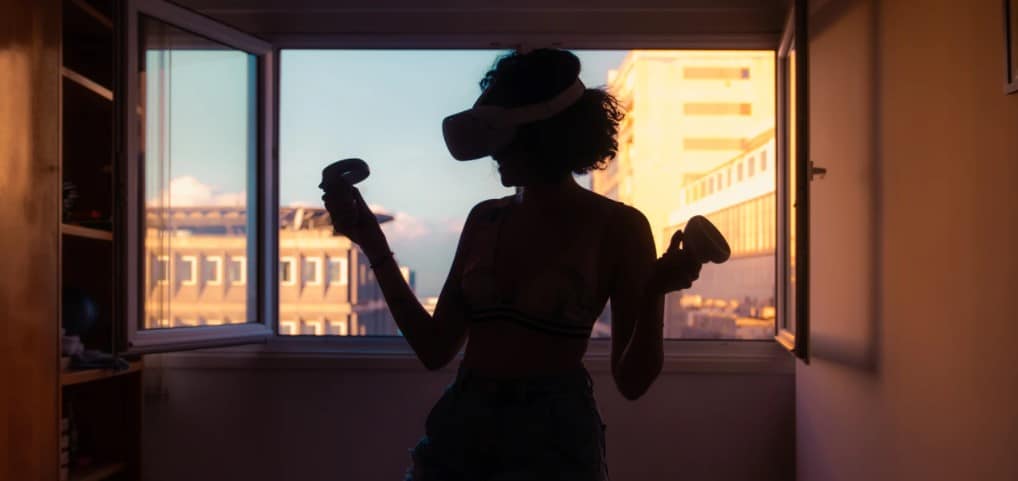 If you have a smart tv, you can cast your Oculus Quest directly to the tv using only the Headset and the controller. Follow the steps below:
Step 1 – Go to The Utilities
Please turn on the Headset, and put it on in the usual manner. In the right section of the home screen, there is a section titled "utilities".  With the trigger, select that section, and there you will see an option called "Cast to".  Click that option.
Step 2 – Select Your TV
When you click on the cast to option, a pop-up will appear. In that pop-up, a list will appear. The list will contain all the TV or display devices that the Oculus Quest can cast to. From the list, select your TV. Then, click the "Next" button.
Step 3 – Check The Casting
After you have completed the steps above, a notification will be below the menu saying "Casting Started". This means that your Oculus Quest is now successfully casting to your TV.
Remove your Headset, and check the TV. You will find the view of the Headset showing on the TV.
How to cast oculus quest to tv
Casting Oculus Quest to TV via Phone
While the Chromecast is an easier solution than this, it costs some money, and there is a free solution where you can cast the Oculus Quest to your tv without Chromecast.
Step 1 – Connect Everything
Turn on the Headset, your phone, and your TV.  Connect them to the same Wi-Fi connection. 
Step 2 – Open The App
On your phone, open the Oculus mobile application. Connect the app to the Headset. In the app, find the casting feature, which will cast from the Headset to your phone.
Step 3 – Mirror The Phone
There are a lot of applications for android which lets you connect to a TV with your smartphone. Apps like MirrorOP and others provide great screen mirroring from smartphones to TV. With these apps, you can copy or mirror your phone screen directly to the tv.
Step 4 – Check The Stream
You need to check the streams thoroughly before you start to play the games. How this works is, the headset casts to your phone, and then your phone screen gets mirrored in the TV.  In this method, the footage will be less quality than casting with Chromecast. Without spending any money on Chromecast or similar hardware, this is an easy way to see decent game footage from Oculus Quest.
Casting Oculus Quest to an old TV
In modern and smart TVs, casting an Oculus Quest is easy and quick. But, some of us may have an old TV that does not have these smart features. And sadly, for those, making oculus quest cast to tv without Chromecast or similar devices is not possible. Purchasing options like Chromecast or Amazon Fire Stick is the best option to go for.  Even though this will cost a little bit of additional money, but this investment can give your old TV a rebirth.
Casting Oculus Quest to TV with Amazon Fire Stick
Step 1: Plug-In the Amazon Fire Stick
Plug and install the Amazon Fire Stick on your tv. Complete the initial setup process, and proceed to install the necessary applications.
Step 2: Install Mirroring App
Install a mirroring app on the fire stick for mirroring your phone while it casts from the Oculus Quest Headset. For iPhones, you can use the Airplay app. For androids, use apps like Allcast.
You can even not use any third-party app, and use the screencasting option directly from your android. Just enable screen mirroring on the fire stick, then proceed to mirror from the phone.
Step 3 – Cast to Phone from Headset
Open the Oculus app on your phone, and then cast the Headset to the phone. When the Headset is casting to the phone, use the phone casting option to mirror the phone screen to the tv via amazon fire stick.
Step 4 – Enjoy The Gameplay
When all the things are working fine, you got yourselves a live stream from your oculus quest to your old model tv. Make sure to check your phone for charge and heat issues. It might lose charge quicker than usual usage because of the processing of both receiving the casting and the casting to tv.
FAQ
How do I cast my oculus quest to my tv?
Answer: Chromecast is the best solution for casting an oculus quest to a tv. You can also use screen mirroring apps which will mirror the casting from your phone to the tv.
What to do when oculus quest can't find tv?
Answer: Oculus Quest cannot cast to TVs that have Chromecast devices below zen 3. Make sure you have the Chromecast zen 3 or ultra in your TV, and it is plugged in properly. Also, check your Wi-Fi connection.
How do I cast my oculus quest to my tv?
Answer: Chromecast is the best solution for casting an oculus quest to a tv. You can also use screen mirroring apps which will mirror the casting from your phone to the tv.
Final Words
Virtual reality is a great experience, and Chromecast allows for this experience to share with everyone through the TV.  You can also make an oculus quest cast to tv without Chromecast, and the methods stated above in this article are quick, easy, and save money. Make sure to try on some of those before you decide to upgrade your Chromecast or your TV.
I love technology for this reason always try to share my knowledge with my all friend and communities. If you are want to know the trend of technology today and tomorrow keeps with us by commend and regularly share with a view.