Oculus Quest is a really popular VR headset of the current time. If you have been using Oculus Quest and love to play the games, once in a while you would like to record the gameplay or to show other people how you are playing a game. You can make your oculus quest cast to pc with very little effort and time, and then you can enjoy the gameplay with your family and friends!
Table of Contents
Oculus quest Cast to PC with Browsers
You can easily cast your Oculus Quest to the PC using your internet browser. Follow the steps below:
Step 1: Connect to Wi-Fi
Use the same Wi-Fi network for your PC and the Oculus Quest. Both of them have to be on the same network address for casting.
Step 2: Open up the browser
There are lots of browsers for windows. But, among all the browsers, Google Chrome and Microsoft Edge are the ones that provide uninterrupted receiving of the casting. So, it is a good idea to use either one of these two for watching the gameplay from Oculus Quest Headset.
Step 3: Go to the Oculus website
With the browser, go to. Then, log into your Oculus account.  After logging in, you will find the casting receiving page on your browser.
Step 4: Share from Oculus Quest
Open your Oculus Quest. Then, with the trigger, look for the "Share" option in the menu. Select the option.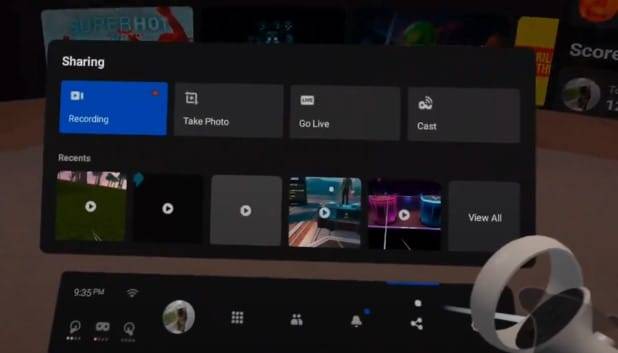 Step 5: Cast
From the share option, find the "Cast" button, and then click on that. This will give you a pop-up of all the available devices you can cast to. Among these devices, you will see your PC. Select the PC, and then you will get a notification on the lower part of the Oculus Quest that you are now casting.
Step 6: Check the PC
After you get the casting notification on the Oculus Quest, the footage from the headset will start playing on the chrome or edge tab that you kept open previously. Check if the browser is playing the casting properly, then enjoy the game and the casting with your family and friends. You can also record the gameplay from your Computer with recording software like OBS and many others.
The issue with Oculus Quest cast to PC
It is important to know, that this casting will rely on your internet connection. A bad internet connection will lead to buffering in the stream. Make sure to have a good internet connection.
But, perhaps the biggest problem with this method is, you won't get any audio from the microphone when you make an oculus quest cast to pc in this method. You will get clear video and audio from the gameplay, but there will be none from the mic.
If you are casting to the PC to show the gameplay to your friends and family in the same room, this is not a big problem. But, if you are in the other room where they cannot hear you physically and only connect with you through the casting, they will miss your commentary.
But if you are recording the game, then this is a really major problem. If you are making any video about the game or recording it for editing or future purpose, your comments will not be recorded.
Stream Oculus Quest to PC with sound
In most of the methods, oculus quest stream to pc wireless comes with no microphone sound. There is a solution to this problem, and through that, you can stream oculus quest cast to pc with clear video, game audio, and audio from your microphone.
This is an alternative method of casting your Oculus Quest to your PC with microphone audio, and it is even easier than the first method described.
However, this easier and quicker method will cost you a little on the money side, but that is a reasonable amount. Follow the steps below to Stream Oculus Quest to PC with sound:
Step 1: Go to Microsoft Store
Open up your PC, and connect it to the same Wi-Fi or network that your Oculus Quest is being used. Then, click on the start menu, and from there, go to Microsoft Store.
Step 2: Install AirReceiver
On the MS store, search for AirReceiver on the search bar. Then, install AirReceiver on your computer.
AirReceiver costs just over $5, but often there are sales and discounts going on, which brings it down to just over 3 dollars. This is one of the cheapest solutions when it comes to paid software or methods to cast Oculus Quest streams to PC.
Step 3: Open AirReceiver
Open up the software after installing. You will need to give a name there, and then the software will be ready to accept any type of stream or casting. You will see the ready-to-accept mirror message, along with a circular waiting message in the middle.
Step 4: Select device from Oculus Quest
When you turn on and put the Oculus Quest, click the sharing button on the menu. In there, you will find the option "Cast". After you click that option, there will be a list of available devices suitable for casting. From the list, select your PC.
Step 5: Casting
After the last step, you will find a notification on your Oculus Quest that it is casting to your PC. The stream received by AirReceiver is much higher in quality than other methods. Also, along with the gameplay video and sound, you will get the sound from the headset microphone streamed to the PC.
FAQ
How Can I make an oculus quest cast to pc?
Answer: You can use your PC browser, or third-party applications to cast the feed of your Oculus Stream to PC.
How to stream Oculus Quest to PC with sound?
Answer: You need to use software like AirReceiver to properly cast high-quality video, gameplay audio, and microphone audio to the PC.
Final Words:
Making oculus quest cast to pc is a great way to record your gameplay, or to show it to other people. While there are many methods to do oculus quest stream to pc wireless, these two are the easiest and takes so little time.
I love technology for this reason always try to share my knowledge with my all friend and communities. If you are want to know the trend of technology today and tomorrow keeps with us by commend and regularly share with a view.