We all know Windows updates are a necessary thing. If you want a happy and peaceful life, it is mandatory.
But the fact is, we want to avoid it because sometimes the Windows update stuck at 27. Most of the time, it happens when we are in a rush. And it is painful to many Windows users.
However, a Windows update will keep your computer protected, eliminates nasty bugs. 
Moreover, Windows OS works smoothly.
Now the question is, what will you do if the Windows update of your computer is stuck at 27? How will you fix it?
Well, don't panic, stay calm, and relax. I will cover the fixation process of the Windows 10 update stuck at 27 percent in this article.
So let's get to work.
How will I understand Windows Update Stuck at 27?

If one of the messages below persists for a long time, be sure the installation process of one or more Windows update is stuck.
Preparing to configure Windows. / Do not turn off your computer.

Configuring Windows updates / x% complete / Do not turn off your computer.

Please do not power off or unplug your machine. / Installing update x of x…

Working on updates / x% complete / Don't turn off your computer

Keep your PC on until this is done / Installing update x of x…

Getting Windows ready / Don't turn off your computer
You may also see different wordings based on your Windows version.
Why Windows Update stuck at 27 Happens?
This is the most buzzing question for every Windows user. Several different reasons are responsible for the Windows stuck problem.
This type of problem happens mostly by a software conflict or a predetermined issue that comes to light only when the Windows update starts installing. These rarely happen because of a mistake on the part of Microsoft regarding updates, but they do happen.
You can't say that Windows 10 experiences Windows stuck problem more. In fact, Windows update stuck issues can happen to any version of Windows, including Windows XP, Windows 7, Windows 8, Windows 10, Windows Vista.
Does Your Computer Windows Update Really Stuck?
Before you move on to the fixation process, you need to know your computer Windows updater is really stuck. No exception, Windows update installation can take several minutes or more to accomplish the process. A new problem will arise if there is no issue.
If nothing is happening in the computer screen for more than 3 hours during a Windows update, be sure it is stuck. If anything happens after that much hour, don't forget to inspect your hard drive.
Generally, Windows will get stuck before the 3 hours' mark, but this is a reasonable amount of time to wait.
Fixation Process of Windows Update Stuck at 27
Option 01>
Press and hold Ctrl + Alt + Del at the same time. In some cases, Windows updates may hang at a particular stage of the installation process. And then, executing this command will lead you to your Windows login screen.
Once the login screen comes, log on to your computer as you usually do, and let the updates install effectively.
Important Quote: After performing Ctrl + Alt + Del command, if your computer takes restart, read the second quote from the below Option 02.
Option 02>
Restarting the computer is another option to get rid of this problem. Simply press the RESET button or Power ON/OFF button. Your computer will take Restart without showing any difficulty. And the update will finish smoothly.
If your Windows update stuck to 27, you have no choice but to hard-reboot.
Moreover, if you are automatically taken to the Advanced Boot Options or Startup Settings Menu after reboot, don't forget to select Safe Mode and follow Option 03 below.
TIP: Based on the Windows and BIOS / UEFI configuration mode, you may need to press and hold the power button for more seconds than expected before the computer gets shut down. Also, you may need to remove the battery of your laptop or tablet.
Important Quote: If your computer OS is Windows 10 / 8, and after the restart, once you are taken to the sign-on screen, try to hover your mouse to the power icon placed at the right-bottom area and click on it. Then select Update > Restart.
Option 03>
You can select Safe Mode to start Windows. This is a special diagnostic mode of Windows that will allow loading required drivers and services that are mandatory for Windows.
However, if the Windows update installation process finishes successfully and you have chosen to continue with the safe mode, no worries. A simple restart will let you enter Windows without any trouble.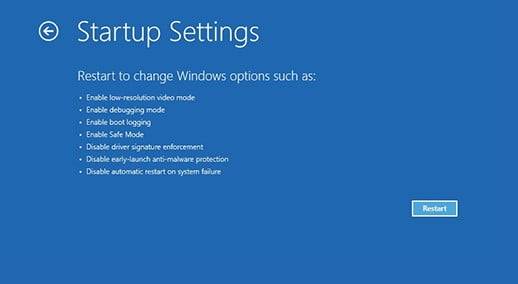 Option 04>
If you want to undo the changes that have been made during incomplete Windows updates, you should choose System Restore.
Assuming a Recovery Point has been created, and the System Recovery has been successful, before starting the update, your computer should return to that point.  
Option 05>
It would be best if you choose System Restore from Advanced Startup Options. However, this option is available in Windows 10 & 8. For Windows 7 & Vista, you should go to the System Recovery Option. Follow these steps if only you are unable to access Safe Mode.
The good news is, you can access these Manus because they are outside of Windows, and obtaining these Menus is possible even if Windows is entirely unattainable.
Option 06>
System Restore is a more direct way of undoing any changes. Sometimes, you may need to follow a more comprehensive repair process from the below in terms of Windows Update.
Windows 10 & 8: Choose Startup Repair. If it is not helpful, Reset this PC process. However, it is a non-destructive process.
Windows 7 & Vista: Choose the Startup Repair Process.
Windows XP: Choose the Repair Install Process.
Option 07>
It also might happen that your computer Memory has fallen, which is why the Windows Update Installation process has stuck.
At this point, check your computer RAM.
Option 08>
Due to an outdated BIOS, the stuck problem may happen, whereas it is a different reason. A BIOS update can fix the problem if one or more updates involving Windows trying to install Windows are involved with how Windows works with your Motherboard or other built-in hardware.
Option 09>
If none of the above options is workable, you can choose to give a clean Windows Install. Having a clean Windows installation means that the hard drive is being completely erased and then reinstalling Windows from scratch on the same hard drive.
No doubt, you will want to avoid this reinstallation of Windows, but this is an effective way of solving the Windows update stuck at 27 problems.
Windows 10 update stuck -Fix when stuck downloading updates
Last Words
I believe any of the above options will assist you in eliminating the Windows update stuck at 27 issues. However, don't be late when it is time to get a Windows update. In the end, you can't avoid this update process, so it is better if you allow your computer to take Windows to update on time.
I love technology for this reason always try to share my knowledge with my all friend and communities. If you are want to know the trend of technology today and tomorrow keeps with us by commend and regularly share with a view.