If your document has so many pages, it can cost you more money for printing. What about merging multiple pages into one page? Isn't it good?
So in this article, you are about to learn how to merge and print multiple pages into one page in MS Word. The built-in print management tool of the Windows operating system enables Microsoft Word to organize many pages to print. This can be cost-effective.
Below here, step by step, we are showing how to print multiple pages in word
Table of Contents
How to make 2 pages in 1 page of the Word?
Step 1:
Open your Microsoft Word document and click file- >New- >Blank document, then create a button. A blank white page will appear.
Step-2:
Create two pages. Here, for example, I have created two pages.
Step-3:
From the title bar, click view->two pages, which will represent two pages side by side.
Step 4:
On the top left corner, click on the "Fullscreen reading" button and start reading with the merged page.
Now, what if you have to print 2 pages as 1 page? You have to click on file and then "Print" option.
Then you have to click on the print icon on the left side. Select your desired printer machine, select 2 pages per sheet from the setting icon, and print the page.
How to print 4 pages per sheet Word 2016
One day a request came from a friend to put a one-page document. I have to print 4 times on a single sheet of letter paper. I was confused for a bit. But after 5 minutes of research on Google, I came up with an answer. As I use MS Word 2016, I can show you how to do that.
Step-1:
First, make a complete document. As an example, I have made a Christmas party invitation card. It would help if you made yours.
Step-2:
On the top left, click on File->print. Choose your appropriate printer. Under settings, option-click on pages and then type 1,1,1,1. That means to MS Word, you want the same page printed four 4 times.
Step-3:
Look at the bottom of the setting. You have to click the "pages per sheet" dropdown button and select "4 pages per sheet".  
Step-4:
So that's it. MS Word is providing you 4 pages on a single sheet of paper.
How to split a page in Word vertically
Paragraph writing is easy. But what is your requirement to write like a newspaper column? You have to think then differently. For such a scenario, I am here to help you. Below are steps I am providing you with so that you can split a word page vertically like a newspaper column. Here we go…
Step-1:
First, paste a raw paragraph from anywhere and select all of this content by the CTRL+A button on the keyboard.
Step-2:
Click page layout>columns and then select the number of columns you want to make. For example, I clicked 2 columns side by side.
Step-3:
All the contents will appear in a single column on the left side of the page.  
Step-4:
Click on Breaks and then click on Columns. All the content may vanish, and the cursor will be in the middle.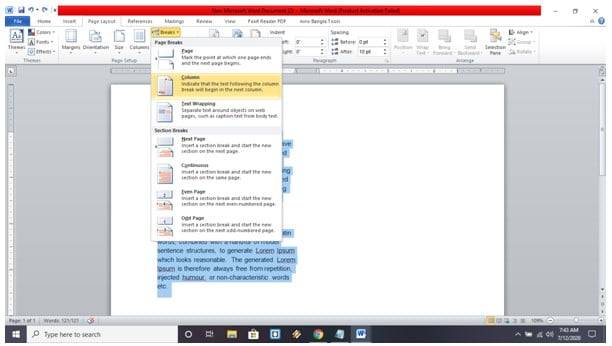 Step-5:
Write or paste your post side by side.
How to make 4 postcards on one page in Word?
Printing your own postcard is cost-effective. Because you don't need to go to the shop and order a huge amount of postcards. That is their business to take maximum orders. You can change your design according to your choice with MS Word. You don't need to hire a company to do that. You can do it on your own. Creating a postcard and designing is easy nowadays when you have Microsoft Word or Microsoft Publishers.
You may want to print one postcard on a single page or four postcards on a single page. Our article is about the latter one. Here are all the tools. Here are all the tools you need to use,
A computer with MS Word or publisher.

Postcard paper.

A printer capable of printing postcards

A postcard template with 4 designs on the same sheet.
So here we go,
Step-1:
At first, open MS Word, click on file new, and on the search bar, write "postcards". Press the enter button.
Step-2:
A page with multiple postcard designs will appear. You need to choose your desired one. Here we take the template with four postcards designed on one page. Double-click on that—that design wills auto-download.
Step-3:
A page with four postcard designs will appear. Now you can edit by yourself. Just keep in mind you have to maintain the same design on this layout.
Step-4:
Click on file-> print. Select your printer and print it.
This article makes you learn four aspects of Microsoft design and print, which can help you in daily life. Thanks for reading this article and being with us. Please give us your valuable opinion on this article.
FAQ
Q: Can I combine two pages into one in Microsoft Word?
A: Yes, you can merge two pages into a single page by adjusting the layout and formatting options.
Q: What is the benefit of combining multiple pages into one?
A: Combining pages helps save space, reduces printing costs, and creates more organized and compact documents.
Q: How can I merge two pages into one in Word?
A: To merge pages, you can adjust margins, font sizes, spacing, and columns. Another option is to use the "Shrink One Page" feature.
I love technology for this reason always try to share my knowledge with my all friend and communities. If you are want to know the trend of technology today and tomorrow keeps with us by commend and regularly share with a view.