Almost everyone uses Microsoft Word to document texts, facts, images, graphs, tables, and other items. It is the most suitable software for writing reports, articles, and even books. Issues may occur when using Word, such as Word document won't open when double-clicked, or when you click on the document, no words are displayed, or the display is blank. This article will describe resolving these issues with Microsoft Word.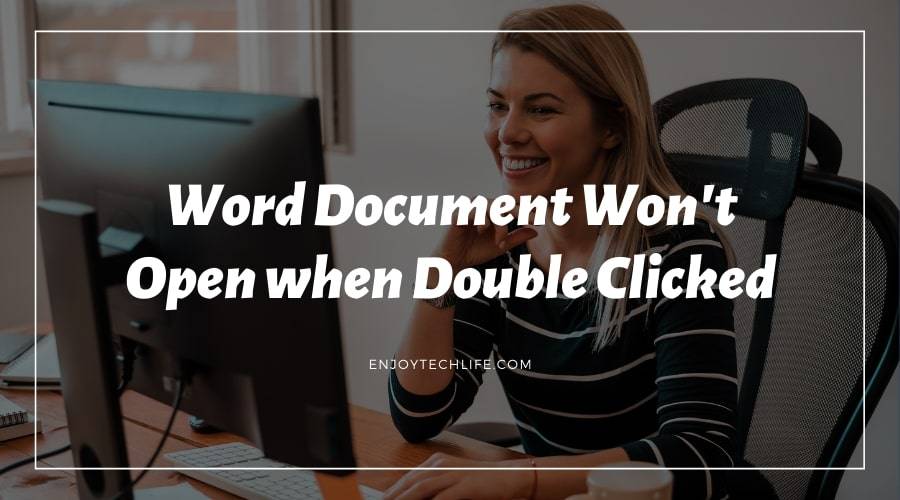 How to Fix the Problem of Word Document Not Opening When Double Clicked
The issue might develop as a result of a file association error. If you have numerous versions of Office installed, this can happen. Whatever the cause, a Quick Repair may be run to fix the problem of Word Document not opening when double-clicked. The procedures below might assist you in resolving the problem.
Method-1: Run Quick Repair
Firstly, head to the Start menu and pick Control Panel. Select Programs from the Control Panel's list of choices, and then go to Programs and Features. Then pick Change for the Office Product to repair. Finally, from the options, choose Quick Repair and then press Repair. If this method does not solve the issue, you can move on to the next alternative.
Method-2: Set the Office App to Default
To initiate, head on to the Start menu and pick Control Panel. Select Default Programs from the drop-down menu. If you can't locate it, use the search box to look for it. Next, go to Set your default programs and pick the Office app that isn't working, in this case, Microsoft word. Then click OK and select Set this program as default.
Method-3: Uninstalling Other Versions of Office
Choose Control Panel from the Start Menu, then Uninstall a Program. After that, select the Office versions you wish to uninstall. After that, click uninstall and restart your PC.
Method-4: Open Word App and Locate File
If everything else fails, open Microsoft Word first, then the document. You'll need to open Word to do so. Then, on the File tab, hit the Open option. After that, locate your file and open the one you couldn't access previously.
Method-5: Uninstall Microsoft Office and Reinstall it
If none of the previous methods work, this is the last resort. The problem will very certainly be resolved by uninstalling and reinstalling the application. From the Control Panel, you may uninstall the program. Restart your device and then reinstall Office.
MS Word: Fix All Issues of Word File Corrupted/Not Opening
How to Repair Microsoft Word Won't Show Content Despite Being Open
If your Microsoft Word document isn't displaying text, you've probably tried various solutions to get it to work. Check to see whether the font and background colors are the same.
When a Word file is damaged, you will notice that Word does not display text. This does not, however, imply that the content of the Word file is permanently destroyed. The solutions outlined above may benefit. If everything else fails, the Remo Repair Word program can be used to resolve the issue.
Step-1: – Download and Install
Download the Remo Repair Word Software on your PC.
Step-2: – Launch Program and Locate File for Repair
Open the program and use the Browse option to find the Word document that isn't showing any information or text.
Step-3: – Wait for Repair Process
After you've finished browsing the file, click Repair and wait for the procedure to finish. You may inspect the file and store it in a suitable location after it's ready.
How to Repair Double Clicking Not Opening Files in Mac
The most recent version of macOS introduces a few modifications to Mac's system settings that several users are unaware of. When double-clicking to open a file does not function on macOS, there is just one solution: slow down the pointer's double-click speed.
At first, choose System Preferences which can be located in the Apple menu, then choose Accessibility. Choose Pointer Control and then Mouse and Trackpad from the drop-down menu. Finally, adjust the Double Click speed pointer to Slow.
Conclusion
One of the most frequently used writing programs on your PC or laptop is Microsoft Word, even on smartphones these days. Word Document Won't Open When Double Clicked is frustrating and learning how to repair it is helpful. You may address the issue with Microsoft Word and other Office programs by following the procedures mentioned above.