Handling documents have become revolutionized because of the electronic signature. Digital tools have replaced pen and paper to make the document signing task easier.
However, the electronic signature is not a new invention. Over the last few decades, they have been developing alongside multiple technological advancements.
This article will discuss the process of adding a signature to a document electronically. Also, you will learn the advantages and drawbacks of this process.
So, let's explore "how to sign a word document electronically"?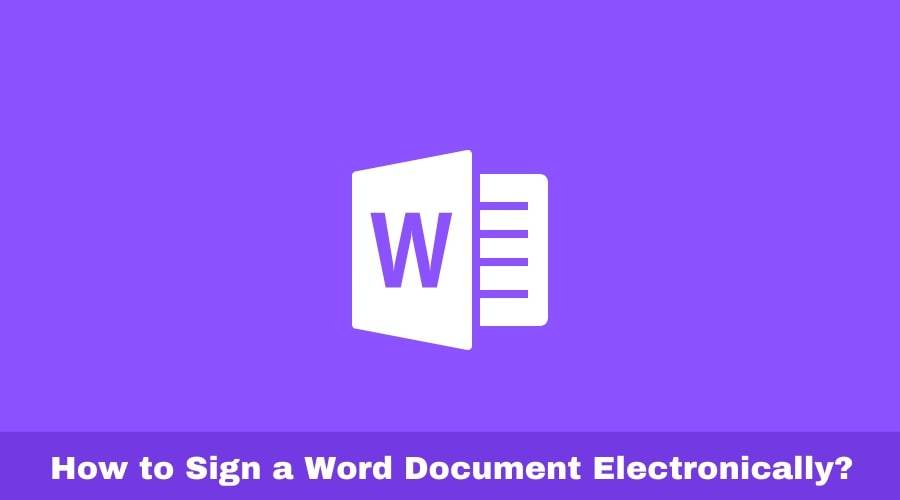 What Does Electronic Signature Mean?
The legal definition is available to define an electronic signature.
According to the law, an electronic signature is an electronically used process, symbol, or word used by a person to sign a logically associated record or linked to a record.
It is a vague definition because it covers a wide range of possibilities. This definition is much logical in terms of word documents.
After signing a word document digitally, it means you are putting an encoded stamp of verification on the document along with a visual representation of your signature. The digital signature confirms the signature's integrity, authenticity, and notarization.
It is not a matter of signing a document physically to confirm its validity.
You might be interested in- How to Fix Page Numbers in Word
Why using eSignature?
Signing in a lot of documents is a time-consuming task. While eSignature is easier compared to the traditional signature. Also, the process of physically signing a document is long. When signing a document physically, you have to take the printout, sign it and return it to the sender. But when using eSignature, printing and using a pen is unnecessary. The process is simple, too, that anyone can do it comfortably.
This means eSignature is assisting you to save valuable time and money and the environment by reducing the use of paper.
E-signature is essential for anyone who needs to send frequently signed word documents.
Sales teams, business owners, administration departments can take advantage of eSignature.
A properly used digital signature is legally bound to be used in the same way as a physical signature. Encryption can also be done with them; you can use it in sensitive documents without any tension.
What is the Process of Adding Signature in a Word File?
Every business center, office, individuals use Microsoft Office for multiple purposes. As a result, it has become a universally used software to create a document. Adding eSignature allows a person to speed up the documentation process.
Using a word file to add eSignature has many benefits. Most people are using it, and many are evolving to add a signature using Microsoft word. This way, it has become a user-friendly process.
However, this can be the most obvious benefit; before you proceed to the eSignature option with word file, make sure that any business center supports the use of eSignature.
How to create an electronic signature in Word – Digital Signature
Follow the below steps to add signature in a word file
First, open the file you want to put your signature on.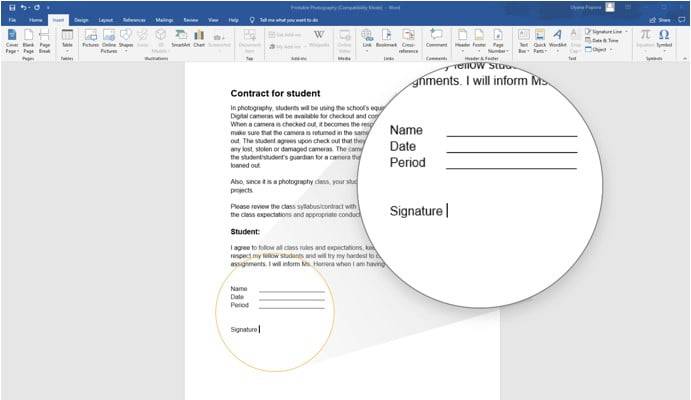 Hover the cursor to the designated place of your signature.
Go to the Insert option located on the Tabs top row.
You will find an option named Microsoft Office Signature Line on the top right side, above the Date & Time option. Click on it.
The Signature Setup window will appear, and you will need to complete the fields with the required information.
The Signature Line needs to be right-clicked to finish the process.
Now finish by selecting "Sign".
Isn't the process being so straightforward? Whoever uses word file, either an experienced or a beginner can follow these simple steps without any problem.
Using a word file, you can add eSign to a document, but the setup process can be synthesized.
For this, whoever wants to put a sign in a document, needs to open the file using Microsoft Word and follow the above steps to add a signature.
The above method is compatible with Microsoft Office versions of 2007, 2010, 2013, 2016, and 2019.
Is there any Limitation to Using eSignature in Word File?
The truth is, word files are not designed to be used for electronic signature software. For this reason, when it is used for eSignature purposes, it has a few limitations.
After collecting the signature, the functionality of the word file and other software is dissimilar. People sign documents to get agreed to the document's content, and sending them to other participants is necessary at this point.
For example, you proposed, and you want to send it to your potential customer. First of all, you have to create the proposal in a word file, take the eSignature of your respected managers and business owner. Finally, you may need to send it to several persons.
Then recipients will read it and sign it if all terms are agreed by them and return it to you. At this point, you are unable to learn how the recipients undergo the proposal. Unfortunately, the eSignature option can't do anything with it.
Additionally, adding eSignature using a word file is not the fastest way of adding signature lines. Persons who rarely sign documents may not prefer this option to sign a document.
But for companies who are sending plenty of proposals, have a large number of sales, eSignature in the word document will be the best and time-consuming method.
Final Thoughts
Technologies have affected nearly every aspect of our life. Modern technologies proved that simple tasks, like signing a document with your name, could also be modernized.
Hopefully, this writes up on "how to sign a word document electronically" to learn the process. The foremost benefit of signing a word document electronically is, it saves time. And we all know, time is money.
Let us know what are the other tools or processes you use to sign a word document electronically are. We are eagerly waiting to learn about your experience in this regard.