Microsoft Word is one of the most used platforms for article writing by writers worldwide for the flexibility it provides. Sometimes you may need to copy some text from somewhere and paste that into your document. But text formatting may appear in such cases if settings aren't proper.
In such cases, it is essential for you to learn the correct settings changing method of how to paste text without formatting in Word for Windows 10. It will lessen your hassle to transfer the desired text easily from other places or articles.
The Benefits You Will Get from Pasting Without Formatting in MS Word
Copying some text and pasting that in your article is not a tough task at all. But sometimes, pasting may cause text formatting issues in your article, which is never expected. That's when pasting without formatting is important, and now let's take a look at the benefits of this feature:
Because of no formatting, there won't be any line breaks and different font sizes in the article you write
At the same time, bolding, italics, and hyperlinks won't be there as well
It will let you free from removing formatting elements from your document and allow you to focus on your writing skill
Because of all these, the text you pasted will have the same font and size with clearly matching your article without any issue
How to Paste Text Without Formatting in Word for Windows 10 – The Correct Path to Follow
We have gathered enough information about what is pasting text without formatting means in MS Word for Windows 10. Knowing about the benefits of this feature has also been done in the previous part. 
This feature won't be set in Word by default, and you need to perform the task manually. So, now it is time for going through the correct path of how to set this up on MS Word for Windows 10:
Step-1: Open MS Word and Create a Blank Document
The first is obviously opening the MS Word on your laptop or desktop that is running on Windows 10 Operating System. After doing so, you will see a new window appearing which contains the "Create a blank document" sign. You need to click on that sign to open a new and blank document to paste or write something.
Step-2: Enter the Options Panel from the File Section
If you want to make any changes to the blank document you created, you need to change from inside this document file. For this reason, you will have to click on the "File" section first. You will find this section in the top-left corner of the document window as the first option. 
After you click there, a new panel of options will appear on the screen that you can work with. The options will be situated on the left of this window, with having each of their sections. From there, you need to locate the "Options" section, which will mostly be situated at the bottom of that section panel.
The next task for you is to click on the "Options" menu to open that section. A new window will appear again as you click on it, containing some more options to work with.
Step-3: Access Advanced Section and Change Settings
As the new working panel appears on the screen, you need to search for the option named "Advanced." The panel of some options will be again on the left of your screen, and in the middle of it, you will find this desired option. Clicking there will bring some sections for assisting in pasting text without formatting in MS Word.
There will be a section in this part named "Cut, copy, and paste," and you need to scroll down there. In this part, there will be a sub-section as "Paste from other programs" with a dropdown icon on the right side. You need to click on that dropdown icon to expand the options that are hidden inside.
There will be three options in there, and among them, you must select the "Keep Text Only." Right above the sub-section you just modified, there will be another sub-section named "Pasting between documents." You will find another dropdown icon in this sub-section as well.
Just follow the same way as the previous one and set it as "Keep Text Only" in this sub-section as well. When all the changing tasks are done, you will have to click "OK" from the bottom of the window.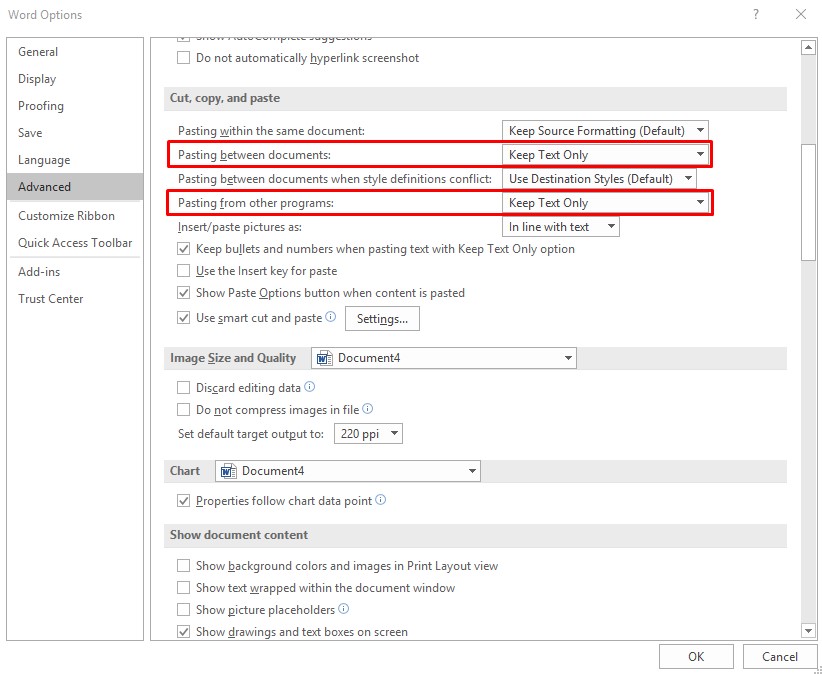 There is a shortcut method as well for Word paste without formatting keyboard shortcut that will come in great assist. Use your keyboard for the task and simply type Ctrl + Alt + V (or Command + Alt + V on a Mac) from there. It will bring a small window named "Paste Special" on the screen.
Right beside the "Paste" section, you will see a dropdown icon on which you need to click. As the menu expands, select "Unformatted text," which will be on top of the list. It will help you to paste plain text without formatting when you are writing any document in Word for Windows 10.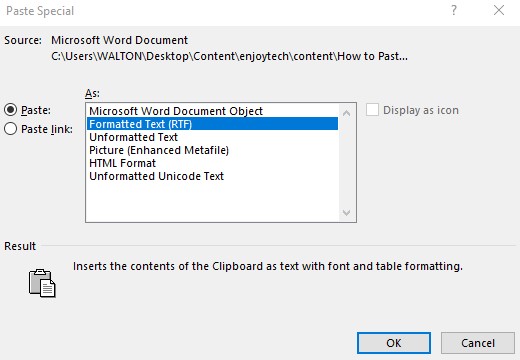 When you are confused about how to paste without formatting word mac, you can apply any of the detailed and shortcut methods. You won't face difficulties with texts getting formatted anymore while pasting during article writing.
Final Thoughts
You might have faced the text formatting issue while pasting texts during article writing on MS Word. At that time, it is obvious to get annoyed, and you might search a lot about How to paste text without formatting in Word for Windows 10 on the internet.  
If you haven't got the desired solution yet, the discussion above is here for your assistance. Both the detailed and shortcut method is capable of solving your problem through changes in the settings section.