Do you enjoy watching movies, television shows, or video games on a giant screen? If so, you've purchased a soundbar to improve and enhance your audio experience. Furthermore, many soundbars can connect through Bluetooth to your smartphone, changing it into a colossal Bluetooth speaker.
But sometimes, you get an error message from your Samsung soundbar. Specifically, it says that the Samsung soundbar won't pair with Bluetooth. Many users get this notification. It can be resolved by following some steps. In this article, we are covering how you can resolve this particular issue.
Bluetooth pairing was designed to be straightforward. And it is! When such error messages occur, they can be solved. Don't worry. Read the instructions in the article and find out what you should do when your Samsung soundbar not connecting to Bluetooth.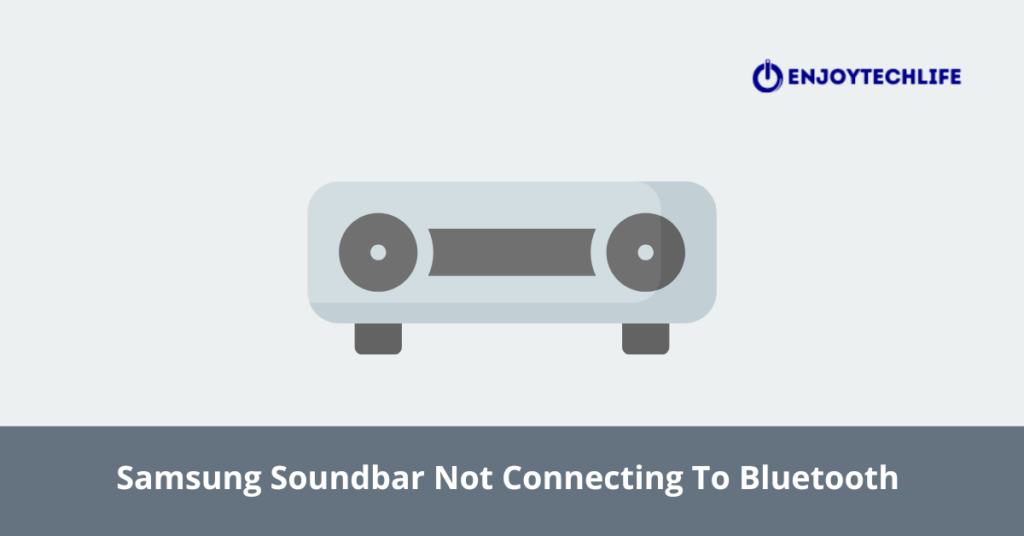 Samsung Soundbar Not Connecting to Bluetooth-Solutions Revealed
Here are some steps that you can try to solve the problem permanently,
First Step
Turn on the soundbar's Bluetooth connection mode. Press Source on the remote or the soundbar repeatedly until the display displays BT > WAIT > BT PAIRING.
If the soundbar indicates BT READY, press and hold Source until BT PAIRING appears.
Second Step
Check that the device you're connecting to is in pairing mode. Every device has a unique way of placing it in pairing mode. If you're unsure how to put your device into pairing mode, consult the user manual.
If you are connecting to a Samsung TV and the name of the soundbar does not appear in the Bluetooth headset list, choose to Cancel and try again. You may need to repeat this process one or two times before the soundbar's name displays.
Third Step
Examine your soundbar for a firmware update. Try updating the settings on your speaker and then pairing it again.
Fourth Step
Perform a factory reset on the connected device. If feasible, remove and reinsert the battery before doing a hard reset. Some devices without access to power may be able to fake a battery draw to complete the hard reset.
Do a soft reset if the device does not have a hard reset button.
If following these three steps does not solve the problem, please follow through with the following steps and prepare for a reset. And being honest, it is typical to have problems after using any equipment for a while. Especially when the gadget has been connected for extended periods, such as days or weeks.
Many people will think about purchasing a new soundbar or, at the least, submitting it for RMA (return merchandise authorization) with the manufacturer, in this example, Samsung. Instead, a reset will rapidly resolve these minor difficulties.
There are two sorts of resets: soft resets and hard resets.
What Exactly Is A Soft Reset?
A soft reset is similar to restarting a gadget. It cannot lose any setup and eliminate the requirement to link your Bluetooth devices anew.
What About A Hard Reset?
A hard reset is similar to restoring your device's original settings. This clears all user data and settings. Also, Bluetooth linked devices, returning the device to the state it was in when it was sent from the factory. As a result, a hard reset is often referred to as a factory reset.
Things To Remember Before A Hard Reset
A hard reset is unquestionably the most straightforward approach to resolve most soundbar difficulties, including connection issues. However, you will lose all of your settings, which is inconvenient. As a result, you should start with less drastic remedies.
To begin, attach another device. For example, try using your smartphone if your TV and soundbar aren't working correctly. It will tell you whether the soundbar or connected device is the issue.
Second, if the problem is with a Bluetooth device, try turning it off and on again. These are simple to accomplish with any smartphone.
Finally, execute a soft reset. Remember that doing a soft reset will not lose any data or configuration. Thus it is safe to do so. Please proceed as follows:
Please turn off your soundbar and disconnect it from the wall socket for 1 or 2 minutes.
Exchange the power cable in the main power outlet.
Switch on your soundbar.
If none of the above options work, you must conduct a hard reset (factory reset).
How to Reset a Samsung Soundbar?
You will now reset (hard reset) your Samsung soundbar. Many people believe that this is a complicated procedure. You will discover that it is much simpler than you think and can be accomplished in less than a minute. Please follow the instructions.
Press the switch on the button to turn on the soundbar. You may utilize your soundbar's remote control or a dedicated button.
Hold the power button on the remote control or the soundbar control panel.
Hold the power button until the 'INIT OK' message appears on the display screen.
Wait for the soundbar to restart, and you're done.
Fifth Step
Attempt to connect other devices. Attempt to connect additional devices to your soundbar. In addition, try connecting additional devices with the one you were attempting to connect to your soundbar. This can assist in pinpointing the source of the problem.
Suppose your soundbar and device can connect with other devices but not each other. In that case, your device may need to be updated or incompatible with your soundbar. For more information, please get in touch with the device's manufacturer.
Additional Step
You can always ask for professional help. Contact the support center and state your query, and a team of professionals will get in touch and solve the issue.
Conclusion
These guidelines and steps should be followed thoroughly if your Samsung soundbar won't pair with BlueTooth. These steps should work for the majority of Samsung soundbars. You may also go through the manufacturer's website to discover important information regarding your device.
Samsung Soundbars enhance your aural experience when watching television. Bluetooth is one method by which they can be linked if necessary. Suppose we get this error message like the Samsung soundbar not connecting to Bluetooth.
In that case, we should read the manual and follow these necessary steps. And even if that doesn't help, be sure to contact the support center.
I love technology for this reason always try to share my knowledge with my all friend and communities. If you are want to know the trend of technology today and tomorrow keeps with us by commend and regularly share with a view.