To maintain a safe environment, you must keep your PC secure with all the internal data. Various security components are present in the Windows-supported PC to keep things smooth. But most common users hardly have any idea about those security components, and memory integrity is one of those crucial components.
You may have doubts about their necessities in the system of the PC. As a common user, asking how important is memory integrity in Windows 11 is alright to clear your doubts on this. It is a system that keeps you safe from malware attacks and hackers but also can create obstacles in your PC's performance.
What is Memory Integrity, How Does It Work, and How Can It Impact Your PC Performance
The memory integrity of your Windows-supported PC is one kind of security component. The basic working criteria of this component is to keep your PC safe from malware attacks and hackers. There are many layers in your computer's security system to keep it safe and secure.
This memory integrity is one of the main features of that layered security system. The sole purpose of this layer or feature is to prevent malware and malicious codes from hijacking high-security processes from your PC. For the working process of Memory Integrity, core isolation and VMP are two of the most important things.
Here, VMP refers to a Virtual Machine Platform where the memory integrity is also known as Hypervisor-protected Code Integrity. These three features create a safe working environment to prevent data theft and hijacking. When you run a program on your PC, this feature checks and ensure the trustworthiness of that particular driver.
Memory integrity works as the safe keeper of the secure working environment made through core isolation. This memory integrity has both positive and negative impacts on your computer based on various situations and environments. Now, the impacts that it can have on your PC are:
When the VMP and the memory integrity are turned on, it can have an impact on the overall performance, decreasing for some moments on your PC
At the time of the driver verification done by the memory integrity, along with using crucial resources, it impacts device performance
Daily tasks won't feel the effect of the impact caused by the memory integrity, but you will heavily feel the effect while using any resource-hungry application
How Important is Memory Integrity in Windows 11 – The Fixing Methods When It is Grayed Out
If you want to keep your internet surfing safe and all the data secure, keeping the memory integrity turned on is a better idea. But it won't always be wise to keep this feature turned on, which can negatively impact your PC. At the same time, you may suddenly encounter some issues while trying to enable this feature.
The major issue is the denial of the memory integrity system from operating. This situation is also known as the problem of becoming grayed out on Windows 11. It is the most faced issue for users familiar with this memory integrity security system. 
Now, if you are also one of the users who faced this issue, here are some methods that you can use to fix it within no time:
Method – 1: Identify the Driver Issues and Fix Those
In this method, there are a few steps to follow for identifying and fixing the driver issue that is causing the memory integrity to gray out:
Step-1: Uninstall Third Party Driver and Try Enabling Memory Integrity
You have installed any third-party driver that may cause that unwanted issue. That's why you need to uninstall that first and then access the Windows security app. After entering there, you will find various tabs on the left of the app window. From there, locate the "Device Security Tab" and click on it to enter.
After doing so, click on "Core isolation details," and here, you will find the slider to turn memory integrity on. If you face the "Resolve any driver incompatibilities and scan again" message here, there are surely driver issues.
Step-2: Review Incompatible Drivers and Update the Driver
You need to click on the Review incompatible driver's links when it says so to enter that section. From this part, take note of the incompatible drivers to fix those. Now, to fix this issue, you first need to enter the "Device Manager" section by pressing the "Windows Start" button.
There will be four tabs here, and you need to access the third one, named "View." Find and click on "Show hidden devices" from the options in this section to make those visible. When all the devices are visible, check for the yellow exclamation mark on the devices.
If there is any, it needs to be updated, and you can easily perform it by just right-clicking on the device and then selecting "Update Driver." It should fix the issue immediately, but if not, you need to apply to Microsoft authority to solve this unwanted problem.
Method – 2: Uninstall the Relevant Apps
The memory integrity might refuse to operate when you have installed apps from the manufacturers of the faulty drivers. Then you need to uninstall those faulty driver's related apps, and here is the process to follow:
Step-1: Access to Apps and Features Section
The first thing you need to do in this method is to find out the "Windows Start" button. It is located at the bottom-left corner of your PC screen, and right-click on it as soon as you find the button.
It will bring a window full of options from where the "Apps and Features" option will be at the top of that list. All you need to do is click on the option to enter that particular section.
Step-2: Locate and Uninstall the Relevant Apps
In this section, all the apps on your PC will be shown serially. You will have to find out the apps from the manufacturers who built the faulty drivers too. As you locate those, you will find a three-dotted sign at the right of those apps, and click on that icon.
As you click on it, the "Uninstall" button will appear, and selecting that option will uninstall the apps relevant to the faulty drivers.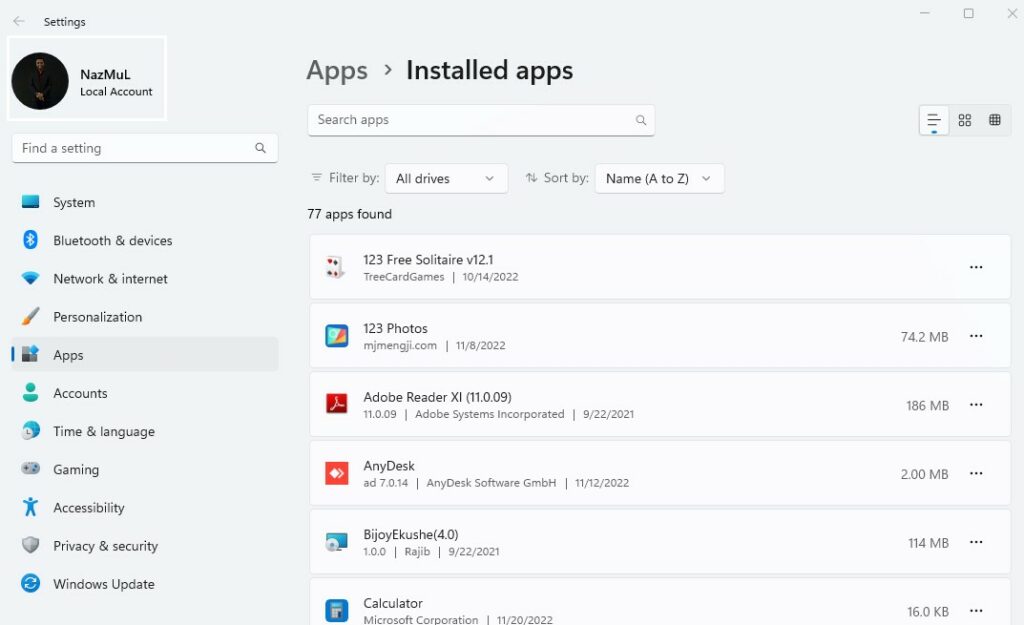 Method – 3: Fix the Update Related Issues
If incompatibility or a corrupt driver is not the reason for the memory integrity being grayed out, not updating the system can be responsible. When the system is not up-to-date, the memory integrity may sometimes refuse to operate. That's the reason why you should make sure of an updated system while encountering such issues.
Here are the steps to follow when you check and fix the update-related issues of your PC's operating system:
Step-1: Check for Updates
To check for the update, click on the "Windows Start Button" first. Then enter "Settings" from the newly appeared option bar, and later, navigate to "Windows Update." At the right portion of the window, there will be a blue-colored option labeled "Check for Updates."
You need to click on it to check whether any update is available. If the answer is yes, then you will have to follow the next step, and if not, your system is up to date.
Step-2: Resume Updates
As the update is available, you will find it paused, which you need to resume. Another blue button will be on the right, labeled "Resume Updates." You need to click on that button to continue the updating process finally. Thus, update your system to fix the memory integrity grayed-out issue.
Method – 4: Fix the Corrupt Files
Unfortunately, a virus invasion can occur in your PC and corrupt the system files present in it. Because of these corrupt system files, memory integrity may stop working to make your PC vulnerable. If that is the case, it becomes a must to make sure the system files are safe and secure.
An SFC scan can cure this, and you need to access "Command Prompt" through Windows search. Right-click "Command Prompt" and select "Run as Administrator" from the recently appeared options. A window will appear, and you must immediately type "SFC/scannow" in there and hit the "Enter" button.
It will start the scanning process, and thus you can detect whether there is any corrupt file to deal with or not.
FAQs
Do I need to keep the memory integrity always enabled?
It is not mandatory to keep the memory integrity feature always enabled. But your PC will remain safe and secure from all malware attacks and data theft attempts when enabled. But it can also decrease the performance of your PC if you are using a resource-hungry application.
So, you need to enable or disable this feature on the basis of your requirements.
What are possible reasons for memory integrity to suddenly become grayed out?
Faulty, outdated, or corrupted drivers are the major reason why this situation may occur. The presence of incompatible drivers is another massive reason behind this issue. It can also appear when the operating system of your PC is not up-to-date. 

But, by applying their particular solution methods, you can eliminate these issues to enable memory integrity again.
Final Thoughts
If you ask how important is memory integrity in Windows 11, the importance is huge to create a secure environment. But it can affect the PC's performance if you use any resource-hungry app. Sometimes, you may face issues while trying to enable this feature on your PC. 
But there are fixing methods which you can apply to get rid of those problems. If you doubt whether to keep it always enabled or disabled, you can do either of these based on your necessity.