Now a day, Discord is a trendy streaming application. People, especially gamers, use this software to stream their gameplay and stay connected with co-players. Like other software, Discord may also cause some problems. You may face issues while streaming using this but solving the issues are not so difficult.
But many people don't know the way to fix the Discord steam game not working. As a result, they stop streaming. We are describing how to solve this issue gradually in this article. You can quickly solve the problem and enjoy unhindered steaming with your fans and followers.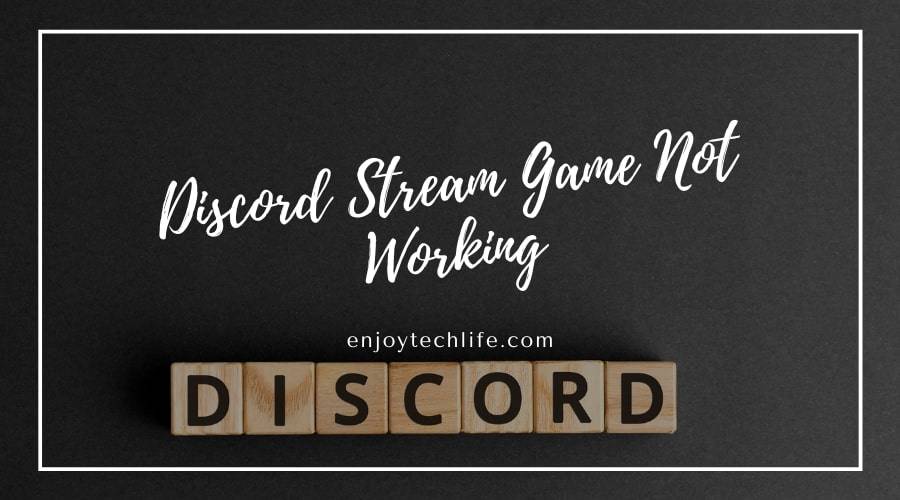 Different Processes To Solve Discord Stream Game Not Working Problem
Several things can trigger the discord stream game not working problem, and the solutions of those are different. Here are some processes described below; follow these, and hopefully, you'll solve the problem easily.
Process 1: Restart the Computer
You may have other software running while using Discord. But there has some software that might have a conflict with Discord. It will make Discord stop working. As a result, you may face game streaming that is not working. It will help if you restart your computer to solve this program. The restart will turn off all the running apps.
Relaunch Discord after the computer is restarted. Your problem is fixed.
Process 2: Update Discord
The bug is a common problem for software and applications. That's why; developers release updates regularly. Discord follows the same rule. If you miss any update, you might face the streaming problem. So, you should update the Discord to prevent the problem. Here is how to update Discord:
Step-1: Start the "Run" Option. Press on the Windows key and R together.
Step-2: Now type %localappdata%, then click "OK."
Step-3: Double click on Discord
Step-4: Find out "Update.exe" and double click on that.
Now, wait until it gets completed.
Step-5: Relaunch Discord
We hope your problem is solved. If not solved yet, then go for the following process.
Process 3: Clean the Discord Roaming Data
If you cannot set up your Discord account correctly, it may prevent the stream from working correctly. Temporary files are also responsible for this failure. You should clear all the Discord roaming data to fix the problem.
Step-1: Exit Discord
Step-2: Press the Win key and R together to Start the "Run" Option.
Step-3: Type %appdata% and hit Enter key.
Step-4: Right-click on Discord and then choose Delete
Step-5: Launch Discord again.
Following the steps mentioned above, your problem may be solved. But if this process also fails, you can follow the next one.
Process 4: Disable the Antivirus for Some Time
Antivirus helps us to protect the computer from viruses and malware. But sometimes, it deletes some necessary files which are unfamiliar to it. As a result, your streaming may stop. You can disable the antivirus for a while and start streaming again. Once you see the stream is working, then you can begin the antivirus again.
Process 5: Install Discord Again
If you find the processes mentioned above are not working to fix your problem, it would be better to re-install Discord on your computer. For that, you have to uninstall Discord first. Let's see how to uninstall Discord:
Step-1: Go to Control Panel from the Start Menu
Step-2: Find out and click on "Uninstall a Program."
Step-3: Right-click on Discord, then select Uninstall. Click on that option.
Once uninstalling is complete, open your browser and download Discord again. After downloading, double click on it and follow the following steps to install again-
Process 6: Enable Permissions
All of the Discord accounts don't have permission to stream. You should enable the license for each option of Discord. If you forget to allow a single vote, it can cause stopping the stream. That's why; you should check all the permissions are enabled before starting streaming.
Black Screen Problem
Sometimes you may find your streaming is running, but there is no output. Which means it's showing a black screen. Don't worry about this. It's very much easy to solve Discord screen share not working black screen. Let's learn the methods to solve it.
Discord Black Screen Problem
Method 1: Run as Administrator
Step-1: Press the Windows key to open the Start Menu
Step-2: Type Discord in the search box. Once it shows the Discord app, right-click on it.
Step-3: From the options, click on "Run as Administrator."
As a result, Discord will get admin privilege, and you can stream without any problem.
Method 2: Disable the 'Using Latest Technologies' Option
Usage of the latest technologies can cause problems with your streaming. Disabling this feature can solve your problem, and you can stream your game again.
Step-1: Open Discord
Step-2: Click on the "Settings" option. You will find this on the left corner of the bottom side.
Step-3: Navigate to Voice and Video option. Look at the left side of the screen to get this.
Step-4: Scroll down to the bottom and find out Video Diagnostic option.
Step-5: There, you will see the "Use our Latest technologies" option. Just turn off this.
Everything is done, and your problem is solved.
Discord stream loading forever
If you are streaming on Discord and see that it's loading, you cannot use the app. But it's not so tough to solve the discord stream loading forever. Let's see how to do this:
Step-1: Check the time and date. These should help me up to date automatically.
Step-2: Scan the computer
Step-4: Clean the threats if found. Then restart your computer and Discord.
Step-5: Make sure that the Firewall of your computer is allowing Discord connection.
Step-6: Now, go to the proxy settings to make sure that proxies are disabled.
If you see everything is OK, then you can start the stream again without getting stuck.
Final Words
Discord is a well-known and popular software to all, especially gamers. It helps much to stream the gameplay or other videos to the viewers. But sometimes, it causes some problems and interrupts the stream. You should know the process of how to solve the issues to enjoy a smooth and continuous stream.
Many people don't know how to solve discord stream games not working for lack of proper knowledge. Here we tried to discuss the solution of the problem straightforwardly. You can solve the issue quickly and stream your game freely following this article.